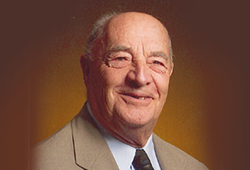 George's philosophy on retirement seems to be "If you rest, you will rust."
George, a lifetime resident of southeastern Wisconsin, enjoyed a long and successful career in the telecommunications industry. Together with his wife, they raised a family of eight children, seven sons and one daughter. Having raised such a large family, he is also blessed with 17 grandchildren and two great-grandchildren to date.
Officially he has been "retired" for more than 20 years now, but he has a schedule that's as busy as ever. Four days a week he volunteers as a driver for a pair of local organizations, providing transportation to doctor's visits, trips to the dentist and so on to those who are either too elderly or too infirm to drive themselves. In 1998 he even spent a couple of weeks in Puerto Rico in the aftermath of Hurricane George, working with a relief agency.
George became acquainted with the Priests of the Sacred Heart through his home parish, St. Martin of Tours, which is run by our SCJ priests. The connection he felt with the priests that came through the parish instilled a strong belief in "passing it on".
George soon became acquainted with more and more SCJ priests. He interacted with them at Sacred Heart Monastery and got on our mailing list.
In his passion to "pass it on", George learned about the Sacred Heart Gift Annuity Program. He found that he could make a gift that would give twice to the Priests and once to him! At the time of the gift, the money is wisely invested by the Priests of the Sacred Heart to sustain our ministry for years to come and then again, when George passes, leaving whatever is remaining to the good of the ministry.
George was also comforted to know that the interest rate he would receive could help with his monthly income needs, and he established his first Sacred Heart Gift Annuity. George was so pleased with annuity program that he followed suit with eight more annuities; a few single annuities, a deferred, one using stock (which has many benefits), and some as gifts for his children.
George is very pleased with the income that his Sacred Heart Gift Annuities provide him in his retirement. Always the father, George also likes the fact that he is setting an example for his children and grandchildren. George feels that when children see their parents giving to charity, they are likely to follow the parents' example.
Like all of our annuitants, George is enrolled in the Sacred Heart Auxiliary, in which members share in the daily prayers, Masses and monthly Novenas of the Priests of the Sacred Heart.
To learn more about the Sacred Heart Annuity Program and how it can help you meet your financial objectives, please contact Pam who would be delighted to send you a no-obligation illustration that shows the amount of the tax deduction and the payments you would receive. Or you may
click here
to access a helpful Gift Planning Calculator and discover how a Sacred Heart Gift Annuity can work for you.
As with any investment, we suggest you contact your attorney, accountant or financial planner for advice specific to your situation. If at any time you or your counsel has any questions, please contact Pam Milczarski at 1-866-268-0157 or through e-mail at
pmilczarski@poshusa.org
.