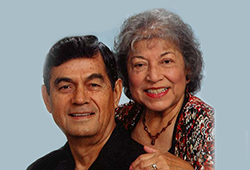 Julio and Estela Gonzalez first met a member of the Priests of the Sacred Heart, Fr. Jim Steffes, when they came to St. Lawrence Parish in San Antonio, Texas in the early 1970s. Since then their relationship with the Priests of the Sacred Heart has become a big part of their family. In fact, Fr. Jim Walters, another Priest of the Sacred Heart, is godfather to one of their grandchildren, Joseph.
Soon after joining St. Lawrence Parish, the Gonzalez's joined the SCJ Family Associates formed by Fr. Jim Steffes, and they along with their four children were consecrated to the Sacred Heart. Julio and Estela said that their four children were influenced by the SCJs when they were teenagers. They believe that the Priests of the Sacred Heart helped to instil them with moral values.
Both born and raised in San Antonio, Julio and Estela were high school sweethearts who married in 1957. During the first few years of their marriage, Estela worked while Julio attended St. Mary's University, graduating cum laude. After graduation, Julio taught school for three years before opening a State Farm Insurance office in 1963. It was the first Hispanic insurance agency for State Farm in the city. Julio was a highly honored agent and retired in 2002.
It is through their faith that they were able to deal with and survive Julio's heart attack in 2003 and Estela's cancer (now long in remission). Their faith has sustained them through more than 50 years of marriage, 10 grandchildren and one great-grandchild.
Julio and Estela said that they are happy to see the growth happening where the Priests of the Sacred Heart serve. They feel that through their support they are part of the multinational success of the Priests of the Sacred Heart.
If you, too, would like to support the work of the Priests of the Sacred Heart, there are many meaningful ways that can have a significant impact now and in years to come. We would be happy to discuss the options that might be right for you. Please contact Pam on our toll-free number 1-866-268-1057 or email her at
pmilczarski@poshusa.org
.