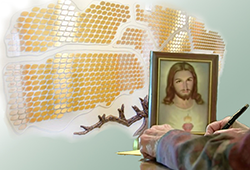 Years ago, Mary received a picture of the Sacred Heart from a neighbor as a gift when she had moved. Although the family was not Catholic, they were religious. Her daughter, then in her twenties, was drawn to the picture and started praying before it.
When Mary's daughter married she wanted to take the picture with her and place it in her home. When taking the picture off the wall, they realized there were the Twelve Promises of the Sacred Heart on the back.
These promises would help them as they discovered her daughter had a terminal illness. After her death, the picture was returned to Mary. Now the 12 Promises have become important to Mary herself in her own life. As a memorial to her daughter's life and faith, Mary made a donation for the Tree of Life at Sacred Heart Monastery.
Mary says she will forever be devoted and grateful for the graces given to her daughter and herself. During difficult times, she has received words of courage from the Priests of the Sacred Heart which have meant a great deal to her.
If you would like to learn more about how you can honor a loved one with a memorial please contact us at 1-866-268-1057 or
click here
.