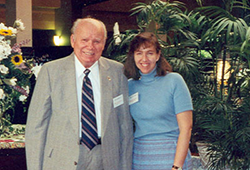 Andrew was born in a small farming village in Czechoslovakia. During the years following World War II, Andrew's family decided to immigrate to the USA. His mother was already a U.S. citizen and was able to return without problems. One year later Andrew's father and two younger brothers followed. Since Andrew was 19 years old and eligible for the military, he was not allowed to leave the country; but within a year, through many prayers, Andrew was granted a visa.
The family settled in Bethlehem, Pennsylvania, and Andrew began his 42-year employment working for Bethlehem Steel Corporation as a crane operator.
Through the church choir, Andrew met his wife Margie. Together they shared many blessings along with hardships. Andrew and Margie were married 44 years before the Lord called Margie to His side.
Throughout his life, Andrew had always been drawn to the image of the Sacred Heart. He remembers being struck by the beauty of a Sacred Heart statue in Margie's parent's home. After they married, they purchased a similar statue to place outside the home of their dreams that they would buy together "some day."
After the death of Andrew's parents, putting two children through college and the wedding of their daughter, they finally purchased the home of their dreams. The statue they purchased many years prior took its place of honor in front of their home.
Having read about the Sacred Heart Burse program, an endowment program for seminarians, Andrew and Margie decided that they would share some of their blessings and help to educate a priest.
Besides seminary education, Andrew has been a strong supporter of the domestic and foreign missions of the Priests of the Sacred Heart. On his own initiative, in order to spread the Word of God and encourage devotion to the Sacred Heart, Andrew shares prayer books by placing them in the vestibules of many churches in his town.
His daughter Mary Ann tells us. "I was inspired by how devoted my father is to the Sacred Heart and how deeply he feels about the Priests of the Sacred Heart. You are accomplishing great works!"
The Burse Program is an endowment program for priestly formation and education. This means that burse gifts are accumulated in an independent fund, which will be allowed to grow. As the principal of the fund grows, so do the annual earnings. Only the interest income generated by the fund is used to cover our expenses. In this way we ensure that funds are available in the future for the education of candidates for the priesthood.
The Priests of the Sacred Heart have three kinds of burses: Shared Burses, Reserved Burses and Perpetual Burses.
Click here
to learn about supporting our Sacred Heart Seminary and School of Theology.
As with any investment, we suggest you contact your attorney, accountant or financial planner for advice specific to your situation. If at any time you or your counsel has any questions, please contact Pam Milczarski at 1-866-268-1057 or through e-mail at
pmilczarski@poshusa.org
.