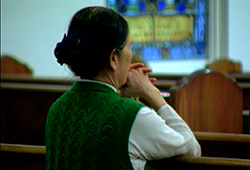 We often hear from many of our friends about the dire need for more priests. Possibly you, too, have experienced this shortage in your own parish with the decline in daily Mass schedules, church closings and reduced pastor participation. Read on about how one of our friends, Cecilia, has assisted in our efforts to educate more men for the priesthood.
Cecilia was born in the Philippines and later moved to the United States. During her childhood, Cecilia remembers the love and devotion that her parents and grandparents had for the Sacred Heart and the prayerful and financial support they gave to the Priests of the Sacred Heart. This commitment inspired her own personal devotion to the Sacred Heart.
Cecilia was a teacher by profession. Upon retiring, she decided to become involved with different religious and social organizations. Cecilia recalls that her first connection with the Priests of the Sacred Heart was when she was enrolled in the Sacred Heart Auxiliary by Fr. Linus, SCJ. From then on, Cecilia has been a devoted friend and supporter.
She says that she has benefited from and appreciated all of the prayers and Mass cards she received throughout the years. Because of her devotion and desire to "share her blessings", Cecilia decided to support the Sacred Heart Burse program, and endowment program for priestly formation and education. Cecilia established a Sacred Heart Reserved Burse in memory of her loved ones.
If you would like more information on the Sacred Heart Burse program and how you, too, can help support the education of more men for the priesthood, please contact Pam at 1-866-268-1057 or via email at
pmilczarski@poshusa.org
. Or
click here
.