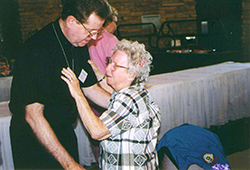 We make a living by what we get, but we make a life by what we give. – Winston Churchill
Lynn was a young struggling waitress and new to Seattle when someone gave her a picture of the Sacred Heart. The imprint on the back indicated that the picture came from the Priests of the Sacred Heart in Hales Corners, WI. Lynn kept this picture close to her and carried it with her every day.
Lynn attended daily Mass during this difficult time in her life and found hope and trust from her devotion to the Sacred Heart. When Lynn would look at her picture of the Sacred Heart, she could visualize being ever so close to God.
Lynn was surprised to discover that her great grandfather, who was one of Abe Lincoln's top officials, was from Potosi, WI. Lynn felt that furthered her connection to Hales Corners.
Lynn was a hard worker and worked her way up, eventually achieving the prestigious position as managing hostess of the famous Rainier Club. The income from this job allowed her to also resume her education, leading to a degree in business.
Later, Lynn faced another struggle in her life. She spent many years devotedly caring for her husband as his health declined and ultimately passed away from kidney failure. She gives her undying gratitude for the compassionate support of Fr. Frank, whom she admired for years. Fr. Frank also suffered from the same debilitating disease as her husband.
Now retired, Lynn continues to keep herself busy as a member of Our Lady of Fatima parish.
Lynn was thrilled to attend a "Friends Thank You" event that was held in her area a few years ago. It was there that Lynn was able to share with is that in gratitude she has remembered the Priests of the Sacred Heart in her will.
Humbled by Lynn's generosity and that of do many other benefactors, the Priests of the Sacred Heart established the Good Steward Society to serve those donors who have made a commitment to assist our Priests and Brothers through a remembrance in their estate plan.
Like Lynn, you too may feel inspired to remember the Priests of the Sacred Heart in your will.
When deciding on how to have your estate distributed, we advise that you first consider your family members or loved ones who may need your support. While we hope you will provide assistance for our work, we do not wish your bequest to leave dependents in a state of need.
Click here
to learn more about wills and bequests, the Good Steward Society or how to plan your will. For additional assistance, please contact our office to speak with Pam at 1-866-268-1057 or email her at
pmilczarski@poshusa.org
.