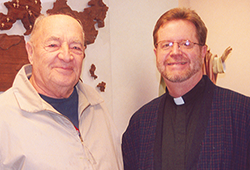 Throughout his 45 years of marriage, George was a devoted and loving husband and father. George and his wife Catherine were fortunate to have eight wonderful children, one daughter and seven sons. Sadly, Catherine has gone to her eternal reward, leaving George very busy with the now-grown children, grandchildren and great grandchildren. Yet he still finds time for numerous volunteer activities, helping the Red Cross and Saint Vincent de Paul, driving the elderly and veterans to appointments, and more.
George and Catherine, long-time friends of the Priests of the Sacred Heart, felt driven to support the mission they so love. They spent time working with an estate planner to put their financial affairs in order. The couple felt very strongly that they wanted to be the ones to determine where everything they worked so hard for will go after they are both gone. George feels that the provisions they made to remember their favorite charities are an example for their children and grandchildren. George was pleased to tell us that the Priests of the Sacred Heart are included in his estate plans.
Humbled by the generosity of George and so many of our benefactors, the Priests of the Sacred Heart established the Good Steward Society to serve those donors who have made a commitment to assist our Priests and Brothers through a remembrance in their estate plan.
If you would like more information about how you, too, can support the Priests of the Sacred Heart through a bequest, please contact Pam at 1-866-268-1057 or via e-mail her at
pmilczarski@poshjusa.org
. Or simply
click here
to learn more about remembering the Priests of the Sacred Heart in your estate plans, planning your will, or the Good Steward Society.
When deciding on how to have your estate distributed, we advise you to first consider your family members or loved ones who may need your support. While we hope you will provide assistance for our work, we do not wish your bequest to leave dependents in a state of need.
As with any major financial decision, we suggest you contact your attorney, accountant or financial planner for advice specific to your situation.