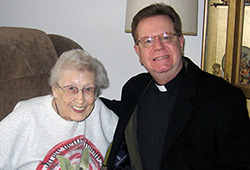 Remember that when you leave this earth, you can take with you nothing that you have received – only what you have given: a full heart enriched by honest service, love, sacrifice and courage.
– St. Francis of Assisi
Violet and her husband Larry worked hard all of their lives so they could enjoy their retirement. Larry was an inspector at Caterpillar and Violet enjoyed her job as a registered nurse for the Milwaukee General Hospital for 22 years.
Unfortunately, both Violet and Larry were diagnosed with cancer and sadly Larry passed away in 2001.
In 1996 Violet received a
Healing Card
from the Priests of the Sacred Heart. While attending one of the events at Sacred Heart Monastery she shared her health issues with Fr. Paul and there started the strong bond which she has felt ever since.
Violet's health struggles did not stop there. In 2002 she underwent heart surgery and endured many more years of cancer treatment. But that did not stop Violet from attending Mass each week, attending many events at Sacred Heart Monastery, enjoying each day and planning for the next. Fr. Paul and Fr. Dominic's visits and phone calls are the highlight of her days. At age 93 Violet is still one of those unique individuals very few of us have the privilege of meeting and getting to know in our lifetime. She has an attitude and outlook on life that is infectious. She has a wonderful spirit and positive attitude you notice from the moment you meet.
To fulfil Violet and Larry's desire to thank specific organizations for their work, the couple made a decision a long time ago to divide their estate among their favorite charities. The Priests of the Sacred Heart is honored to be among that list.
Violet and Larry's intentions are to support the seminary education of men for the priesthood through their estate plans. They knew the importance of this ministry personally because Larry's brother is a priest.
Humbled by the generosity of Violet and Larry, along with so many of our benefactors, the Priests of the Sacred Heart established the Good Steward Society to serve those donors who have made a commitment to assist our Priests and Brothers through a remembrance in their estate plan.
If you would like more information about how you, too, can support the Priests of the Sacred Heart through a bequest, please contact Pam at1-866-268-1057 or via e-mail her at
pmilczarski@poshjusa.org
. Or simply
click here
to learn more about remembering the Priests of the Sacred Heart in your estate plans, planning your will, or the Good Steward Society.
When deciding on how to have your estate distributed, we advise you to first consider your family members or loved ones who may need your support. While we hope you will provide assistance for our work, we do not wish your bequest to leave dependents in a state of need.
As with any major financial decision, we suggest you contact your attorney, accountant or financial planner for advice specific to your situation.