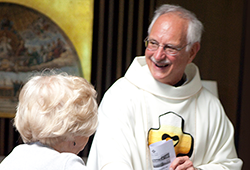 Reading about the good work the Priests of the Sacred Heart was how Cecilia first learned of their mission, and it is that mission of helping those most in need that keeps her ever faithful.
Cecilia was one of 6 girls, born and raised in Chicago during the depression. Recalling that there were not many opportunities to further one's education after grammar school, many young people, including Cecilia, were forced to seek employment. "I started at a rate of 15 cents an hour", recalls Cecilia, while working in a sewing factory during the day. In the evenings she attended classes to get her high school diploma and went on to take some college courses.
Cecilia saved wisely, allowing her to travel all over the world. "Looking back God has been good to me" she says. "I wanted to support the Priests of the Sacred Heart to help alleviate pain, poverty and suffering of those who are less fortunate than I am."
One way that Cecilia found to assist the Priests of the Sacred Heart was through the Sacred Heart Charitable Gift Annuity program. The concept of making a gift during her lifetime that provides income for herself and to the Priests of the Sacred Heart after her death appealed to her as a way she could fulfil her desire to help those less fortunate while providing her with additional financial security.
Cecilia found, as many of our friends have, that there are at least Seven Benefits of a Gift Annuity:
• Special remembrances in prayer and Masses
• Attractive Rates
• Regular Payments
• Fixed Income
• Lifetime Benefit
• Dependable Source
• Relief from Taxes
• Simple Process
The "gift" part of this plan comes when the annuitant passes away. Any remaining funds become the property of the Priests of the Sacred Heart and are used to support our work.
We hope that you too will consider establishing a Sacred Heart Charitable Gift Annuity. You can contact Pam for a free, confidential, no obligation illustration to see how it works, or click here. You can contact us on our toll-free number 1-866-268-1057 or via email at
pmilczarski@poshusa.org
.
We hope that you will join us in helping those less fortunate and spread the love of God.