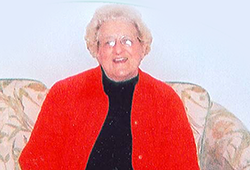 We are always humbled and grateful when people share stories about the good works of the Priests of the Sacred Heart with others, just as a priest of the Erie Diocese did with his housekeeper, Millie.
Millie worked most of her life as a domestic housekeeper, serving two pastors and assistants over 40 years. At 85 Millie is still going strong, caring for priests and others.
One of nine girls in her family, Millie grew up as she calls, "poor". Once you meet her, though, you soon discover that the word "poor" does not fit any description of Millie. Having grown up without much, Millie has made it her mission to help others. Being the housekeeper for priests is one way. Helping the poor by supporting the Priests of the Sacred Heart is another. "I want to help the poor, as I was once poor myself," explains Millie.
As you can see, Millie is "rich" in heart.
One way Millie has found it possible to generously support our work is through the Sacred Heart Charitable Gift Annuity Program, where Millie has benefited by establishing a multitude of contracts. Through her annuity gifts, Millie invests in the future of the Priests of the Sacred Heart and enjoys a secure source of income over the course of her lifetime, based on a fixed rate of return.
Besides the attractive rates, Millie appreciates the charitable tax deduction and partially tax free income made possible by her annuities. But most important to her, her gifts will help the ministries of the Priests of the Sacred Heart for years to come.
Millie is grateful to also be enrolled in the Sacred Heart Auxiliary and share in the daily prayers and Masses and monthly Novenas of the Priests of the Sacred Heart. And all deceased Auxiliary members receive a special remembrance at Mass during November.
If you would like more information regarding a Sacred Heart Charitable Gift Annuity, please contact Pam on our toll-free number 1-866-268-1057, or via email at
pmilczarski@poshusa.org
.