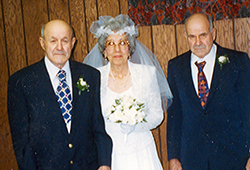 "I first heard of the Priests of the Sacred Heart when I was in India, Bangladesh Territory in 1943-1944. We were moving up to the war front and had to wait for supplies. The Sacred Heart Fathers had an orphanage nearby and we came to know them. I admired the priests for their work and I never forgot them."
A devout Catholic, Francis served his country well and still made time for his faith. While in the South Pacific he'd take time out of his day – 1500 hours (that's 3:00pm) to be exact – and kneel upon a flight deck reciting the Rosary. Holding the beads given to him by his mother when he was a child, Francis proudly turned to faith in God in the face of war.
After the war, Francis and his brother Norbert turned from farming to ownership of a lumber sawmill. They made a good life for themselves and eventually for Francis' wife Benilde as well.
Francis and Benilde married late in life. Neither had been married before, and they were very happy together. "I never knew that people cried when they were happy, but she did," Francis remembers.
Unfortunately, Benilde was struck with cancer, and after a long struggle she returned to our heavenly Father. Once again, Francis' faith kept him strong.
Francis' wartime memories of the Priests of the Sacred Heart led to a deeper relationship over the years. He felt called to help their mission to serve the poor and educate men for the priesthood. After learning about the Sacred Heart Charitable Gift Annuity program, Francis and his brother Norbert each established several annuities, naming each other as survivor.
The brothers wanted to support the Priests of the Sacred Heart, and they also needed to know that they would be financially sound for the remainder of their lives. Naming each other as survivor of the annuities gave them the peace of mind they both sought, along with the satisfaction of doing something meaningful now and at the time of their death.
Francis and Norbert are happy to know that their money is secure, their annuity income is fixed and steady, and the service they receive is dependable. At their death, they have the knowledge that the Priests of the Sacred Heart will benefit from whatever remains in their annuities.
In addition, they qualify for a charitable deduction and part of their annuity income is tax free. Like all annuitants, they are enrolled in the Sacred Heart Auxiliary and are remembered in the daily prayers and Masses and monthly Novenas of the Priests of the Sacred Heart during their lifetime and at their death.
"There are many things I have seen and learned, but I have never forgotten the starvation in Calcutta India and what the Missionary told me: "Thank God every day that you were born in America." Francis did just that.
If you would like more information about establishing a charitable gift annuity, please contact Pam at our toll-free number 1-866-268-1057 or via email at
pmilczarski@poshusa.org
, or
click here
to see how an annuity may benefit you.