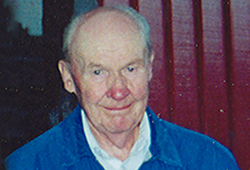 Originally from Watertown, Wisconsin and an avid golfer, Lawrence remembers golfing at Whitnall Golf Course and seeing the old seminary for the Priests of the Sacred Heart. Lawrence said that he often thought about the "men living in there", but at the time had no idea what the Priests of the Sacred Heart would come to mean to him in the future.
Lawrence was drafted into the military in 1942 and served in the Air Force. Upon his discharge from the Air Force, Lawrence decided that he did not want to work in a factory as he had previously, so he attended Marquette University in Milwaukee where he graduated with a BS in Business Administration. Lawrence moved a number of times throughout his career with an insurance company, living in cities such as Los Angeles, Seattle and San Francisco. When he retired, Lawrence decided that he loved the weather in California and made his home in California.
Lawrence said that he has fond memories of Fr. Frank. During a trip back to Wisconsin for his sister's funeral, Lawrence was given a complete tour of the Sacred Heart Monastery from Fr. Frank and had lunch with him. Lawrence is grateful for the friendship and prayers of the Priests of the Sacred Heart and appreciated being able to meet Fr. Frank.
When Lawrence learned about the Sacred Heart Charitable Gift Annuity Program, he was curious about it. The more he learned about it, the more it appealed to him.
After establishing one annuity, Lawrence soon established another, then another and many more after that. The annuities provide him with a good income stream that he can depend on year after year. In fact, for his entire lifetime.
"I wanted to give something back for all the good I received. For a person in my position, the Sacred Heart Gift Annuity Program is the best option. I have recommended your program to my current circle of friends."
A Sacred Heart Charitable Gift annuity is a simple contract between you and the Priests of the Sacred Heart whereby we agree to pay you a fixed, lifetime income based on your age at the time of your gift. Our minimum gift to establish an annuity is $1,000.00 and our minimum age is 55 for an active annuity and age 50 for a deferred annuity. Gifts for an annuity can be made with cash or appreciated securities (which can have added tax saving benefits).
To find out more, call Pam at 1-866-268-1057, email her at
pmilczarski@poshusa.org
or
click here
to see how an annuity might work for you.