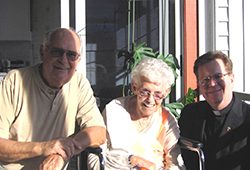 Married in 1950, Hilary and Irene were raised in the Milwaukee area and were high school classmates. Working as a Milwaukee Police Officer, Hilary was drafted into the US Army during the Korean crises. After basic training Hilary was selected for Officers Candidate School. He soon knew, after graduating, he wanted to make the military his career. During twenty years of service, the couple was blessed by the birth of four children.
In 1962, Captain Hilary was deployed to Vietnam as a military advisor. During his tour of duty he became very close to his Vietnamese counterparts and befriended the Vietnamese Division surgeon, Dr. Tieu, who taught him some basic Vietnamese which helped in Hilary's work.
In January of 1975, when it was feared Vietnam would fall to the Communists, Hilary wrote to Dr. Tieu offering to sponsor him and his family to the United States. At first reluctant to leave Vietnam, Dr. Tieu ultimately accepted his generous offer.
Arranging for families to leave Vietnam was very difficult at the time. In going through the process, Hilary and Irene agreed to help two sons of Dr. Tieu's neighbors escape Vietnam as well. Within months, their Milwaukee home swelled from a family unit of six to a mixed household of 13!
Countless stories can be told by Hilary and Irene of their experiences with their Vietnamese "extended family". It is evident that, through their compassion for their fellow man, the Vietnamese families went on to live very productive lives. Today, the children of Dr. Tieu have families of their own and are very highly regarded in their communities. The two other boys attended Marquette University in Milwaukee and stay in contact with the Tieu siblings.
Although they have since retired to Florida, it is Milwaukee that they will always call home, where they raised their children and opened their home and their heart.
Several years ago, Hilary and Irene and their youngest son attended a retreat at Sacred Heart Monastery. It was there they learned about the ministries of the Priests of the Sacred Heart, their dedication to working with people in need, and the uniqueness of Sacred Heart Seminary and School of Theology.
Impressed by the Priests of the Sacred Heart and desiring to support the mission, Hilary and Irene choose to take part in the Sacred Heart Gift Annuity Program. A Sacred Heart Charitable Gift Annuity Program provides income for life and a remainder gift to support the mission of the priests. Like Hilary and Irene, the Charitable Gift Annuity program is loyal, trustworthy and dependable. The Priests of the Sacred Heart have offered charitable gift annuities for over 80 years and have never defaulted on a payment.
In addition to these benefits, all annuitants are enrolled in the Sacred Heart Auxiliary which means they will share in the daily prayers, Masses and monthly Novenas of the Priests of the Sacred Heart.
If you would like more information regarding making a gift to the Priests of the Sacred Heart, please contact Pam on our toll-free number 1-866-268-1057, email her at
pmilczarski@poshusa.org
or
click here
to learn more.