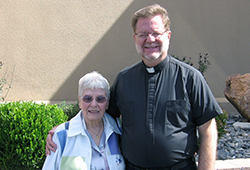 On a visit to Reno a few years back, Fr. Paul had the opportunity to visit one of our long-time friends, Pauline.
Pauline is an active retiree. She is involved with her church, helps count Sunday collections on a weekly basis and is involved with the Perpetual Adoration Society.
Pauline has been donating to the Priests of the Sacred Heart for many years. She has come to depend on them for the prayerful support she receives from the Priests and Brothers, and from the financial stability she receives from her involvement in the Sacred Heart Charitable Gift Annuity Program. "It was the only option that I felt sure was not going to fold or go bankrupt".
Because Pauline receives a fixed income from her gift for her lifetime, she is secure in her retirement financial needs while helping support the work of our Priests and Brothers. Pauline was delighted to also find out that the rates that we offer are very competitive.
"The annuity allows me to contribute more to God's work than I could otherwise manage. I sleep very well at night".
Happy with her decision to support the work of the Priests of the Sacred Heart in this way, Pauline is not shy when speaking to her friends about the program. She is careful to remind them, that the "gift" part of the annuity comes at their death, when the remainder stays with the Priests of the Sacred Heart to carry out their mission.
Our annuitants are pleased to know that a portion of the gift annuity income that they receive is tax free. They also are eligible to receive a charitable deduction in the year the gift is made. In addition to these benefits, all annuitants are enrolled in the Sacred Heart Auxiliary and share in the daily prayers, Masses and monthly Novenas of the Priests of the Sacred Heart.
Pauline feels a deep sense of pride and commitment to her faith. She is compelled to share her enthusiasm for the Sacred Heart Charitable Gift Annuity Program, saying, "The whole staff is superb! Everything happens exactly as promised!"
We would be happy to provide you with information specific to your situation. Please call Pam at our toll-free number 1-866-268-1057, email her at
pmilczarski@poshusa.org
or
click here
to learn more.