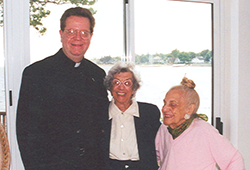 "A generous person enjoys prosperity; and one who refreshes others will be refreshed." (Proverbs 11:25)
Antoinette, a teacher then counselor, is like the angel collection that adorns her and her sister Jo's home; inspirational. What a great comfort and inspiration she must have been to those who crossed their paths in their many years of working with youth.
Some time ago, Antoinette received a video from Sacred Heart Monastery. From time to time, she would watch it, amazed by the size of the school and the good works of the Priests of the Sacred Heart.
For more than
twenty-five years
Antoinette has been a devoted monthly donor to the Sacred Heart Burse Program for seminarian support. As Antoinette said, "It's like spreading our wings" when referring to the relationship that she and her sister established with the Priests of the Sacred Heart. "We need more priests, so we must share and support the need".
Antoinette originally chose the Sacred Heart Burse Program to fulfil the promise that helped her though a serious illness. Antoinette understands very well that there is a great need for more priests. Her own local parish merged with another parish because of this shortage. She is encouraged that more than 40 dioceses send their men to Sacred Heart Seminary and School of Theology for their training. "Their prayers and spiritual support saw me through the worst of times," she told us
Antoinette has been blessed by personal contact with, and the many prayers of, the Priests of the Sacred Heart. She enjoys learning about the missions and looks forward to updates about the progress of the seminary. We are blessed by many years of her friendship.
There are several ways you, too, can support seminarian education now or through a designation in your will. To discuss how you can help fund the education of more men for the priesthood, please contact Pam Milczarski at 1-866-268-1057 or through e-mail at
pmilczarski@poshusa.org
.